When you want a little something that's sweet and spicy, reach for this Mexican Chocolate Bundt Cake; it's rich and spiced with cinnamon and cayenne pepper.

I can't believe it's that time again!
But it is! It's time for another round from the lovely members of Bundtbakers. The wondrous Lauren of Sew You Think You Can Cook is our host this month. She has charged us with the task of creating a bundt recipe which contains the extremely versatile cinnamon. I love the warming effects that cinnamon brings to almost every recipe where it's used. It's especially fantastic in these fried cinnamon sugar tortillas.
Here's the thing: I never thought to combine chocolate, cinnamon and cayenne pepper. I mean, what? Yes, I've heard of Mexican chocolate cookies, but the urge to try them has always escaped me. Well, not this time. I threw caution to the wind and started testing recipes.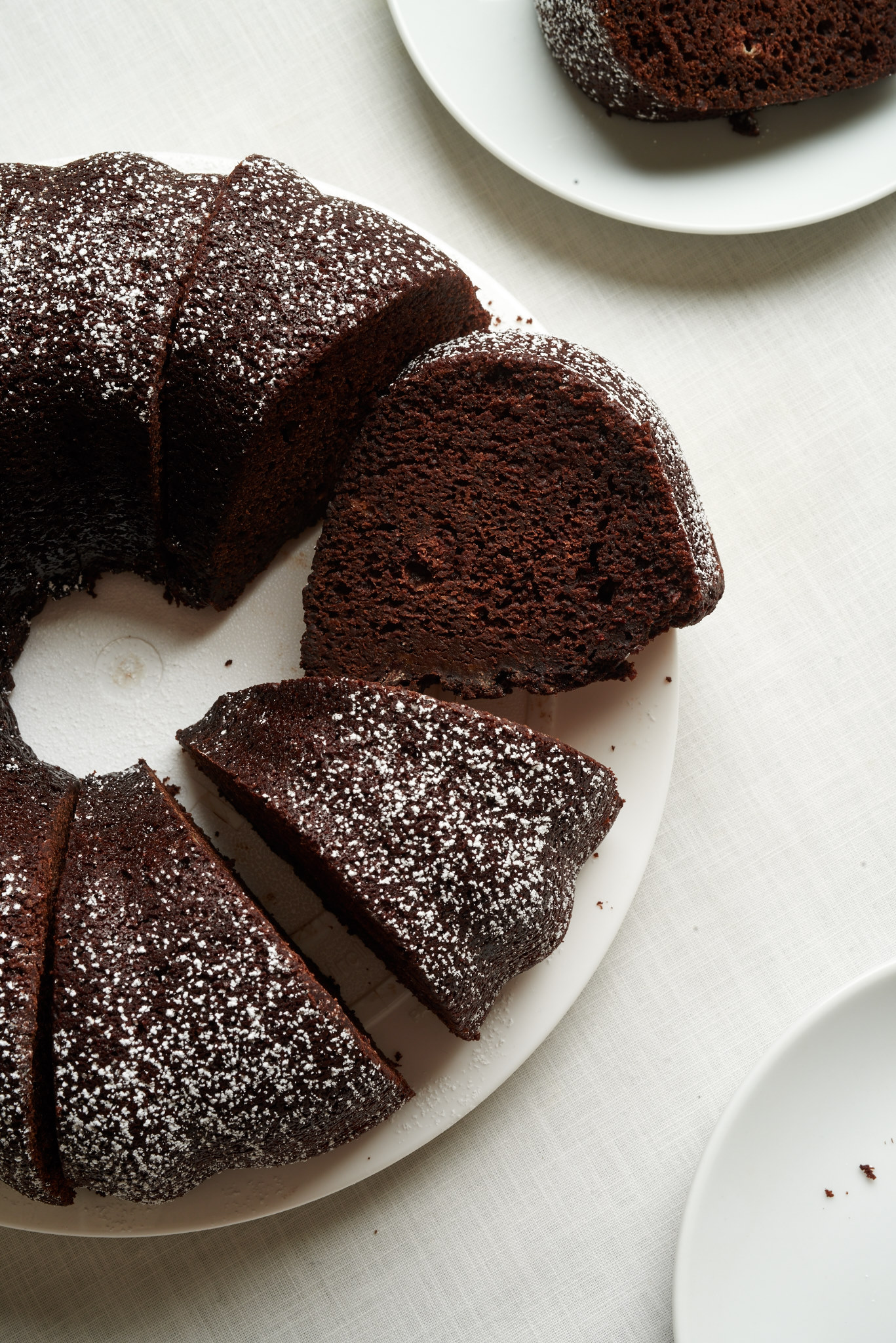 The end result? There's just enough cinnamon where it doesn't overwhelm the chocolate and the cayenne gives it a little extra kick. I decided not to glaze the cake so I added some semi sweet chocolate chips to the mix, which adds to the richness of the bundt. The result is a moist and rich cake that's a bit on the spicy side. It's not an everyday cake, but a go-to when you want to shake things up a bit.
I bet you're pondering other bundt recipes you could use to shake things up, huh? Well, my BundtBaker friends have been baking up a storm, my friends, and they're here to inspire. Please check them out and see what kind of cinnamon-infused confections they've created. You won't regret it Cheers!
#BundtBakers is a group of Bundt loving Bakers who get together once a month to bake Bundts with a common ingredient or theme. You can see all of our lovely Bundts by following our Pinterest board.
We take turns hosting each month and choosing the theme or ingredient. Updated links for all of our past events and more information about BundtBakers can be found on our homepage.
Recipe for Mexican Chocolate Bundt Cake
Recipe for Mexican Chocolate Bundt Cake adapted from my Bourbon Hot Chocolate Bundt Cake, which was adapted from Epicuirous.

Mexican Chocolate Bundt Cake #Bundtbakers
Makes on 10 cup Mexican Chocolate Bundt Cake
Ingredients
1 cup unsweetened cocoa powder (not Dutch-process)
2 cups coffee
2 sticks (1 cup) unsalted butter, cut into 1-inch pieces
2 cups sugar
2 cups all-purpose flour
1¼ teaspoons baking soda
1½ teaspoons cinnamon
½ teaspoon cayenne
½ teaspoon salt
2 large eggs
1 teaspoon vanilla
1 cup semisweet chocolate chips
Instructions
Place rack in the middle of the oven and preheat oven to 325 Fahrenheit degrees.
Coat 10 cup bundt pan with baking spray. Set aside.
On medium-low heat whisk coffee, butter and cocoa powder until the butter has melted in a pan.
Remove from heat and add sugar. Whisk until dissolved, about 1 minute.
Let chocolate mixture cool for about 5 minutes.
Meanwhile, combine flour, salt, baking soda and semisweet chocolate chips in a bowl. Set aside.
In a small bowl, whisk eggs and vanilla. Add to the chocolate mixture.
Whisk in the flour mixture until just combined. (Don't worry if it's bubbly.)
Pour batter into the prepare bundt pan.
Place on the middle rack in the oven and bake for 40-50 minutes.
Bake until a toothpick inserted into the middle of the cake comes out clean.
Remove and let cake cool in pan for 20 minutes. Let cake completely cool on a rack.
Top cake with a little bit of powdered sugar.
Enjoy!